Tim Hyatt: Interview
Tuesday 8th May 2012

Nearing the end of his year as ARLA president, Tim Hyatt does not seem to have had much time to draw breath.
"I have gone round all 29 ARLA regions," he says, "which I think may be a record."
But he has not just been a meet-and-greet figurehead for the organisation: "I took the view that I could approach the presidency in two ways. I could either do an ambassador job.
"Or I could decide to get immersed within the organisation, and get thoroughly involved – with both the good bits and the bad bits."
He sings the praises of the staff at Arbon House, calling them talented and hard-working.
"However," he concedes, "the biggest problem is with communication – communicating to members, communicating what ARLA is to the general public, and communicating what ARLA's position might be on certain subjects."
He thinks that big strides have been made in his year.
A marketing budget has been set up and he is pleased with the appointment of Deborah Woodbridge as marketing manager, who has proved herself an adept user of social media to communicate with members.
He makes no secret of wanting a bigger marketing budget: "We have got to have clear, concise communications," he says.
There is, however, an inherent difficulty in that the budget for a presidential year is set two or three months in advance of the incoming president taking office.
"Effectively, it means that your budget is set by the previous president," he says. There is also a risk that because the ARLA presidency is only for one year, the focus is not longer-term.
"I think there should be a three-year plan," he says. Does he mean that ARLA presidents should serve for three years? "No, that would be too big an ask. We're all busy people – at Knight Frank, I'm an equity partner and in charge of 125 people, handling 4,000 transactions a year.
"To do a demanding job like that on top of presidential duties would be too much for three years. I couldn't commit to doing that."
What he means by a three-year plan is using the presidential team – which in his case consists of himself, Jane Ingram, due to be the next President, and Susan Fitz-Gibbon, due to become President in 2013. He says that all three have worked closely together and believes there is a strong case for this three-as-one model to continue.
If improved communications have been a highlight of his year – whilst still a work in progress – another has been seeing the ARLA regional representatives turn into a 'very cohesive group'.
Undoubtedly another highlight has been the growing membership.
This now stands at over 6,000 for the first time, with 80 new ARLA members joining each month. If recruitment continues at that rate, within 18 months ARLA would overtake membership of the NAEA, which currently stands at around 7,200 – down from its peak of about 10,500.
The slippage in the NAEA membership does give Hyatt cause for concern. Is he of the school that wishes the merger between NAEA and ARLA had not happened? Is there a chance that ARLA might walk away and become a stand-alone organisation once more?
There is a deep breath and a pause before Hyatt replies: "I think the merger had to happen. There is power in numbers, and overnight we grew our presence and membership."
So, what will be the scenario in two years' time? "Certainly, both ARLA and NAEA will still exist. NFoPP we will keep under review. But you don't just tear something up after a year or two if you feel it may not be working."
There is an interregnum at the moment in any case. Peter Bolton King, whom Hyatt rates highly, left last month after nine years as chief executive of NFoPP, and Mark Hayward, chairman of the NFoPP board, is currently acting chief executive.
That arrangement was specifically made while NFoPP contemplates its own future direction.
Hyatt says that we can expect to see changes 'within the next two or three months'. He also describes the NFoPP board as being 'very healthy': "We have debated at length the future of NFoPP and the various organisations within it. We had a board meeting a couple of days ago and I certainly feel very optimistic."
What does give him pause for thought is the ARLA licensing scheme, criticised by some members as being divisive and turning 'ordinary' ARLA members into lesser beings. Hyatt himself regards it as a 'negative' in his presidential year.
"Joe Public does not understand it, and one reason for that is that it's too complicated. You really need to be able to explain ARLA licensing and ARLA in 30 seconds, and at the moment that's not possible.
"It is tricky one to resolve, but we have three options: ditch it, simplify it or change it."
His own option, he says, is to simplify the scheme.
Hyatt's presidential year has also had the issue of SAFEagent to contend with. While a wealth of organisations from the Government to Shelter and Citizen's Advice have publicly endorsed the initiative, ARLA has not done so. Why?
"Every agent I speak to is fully supportive of what SAFEagent is trying to achieve. Our concern is that one of our competitors [NALS] administers the scheme," he says. "If they were to be removed and an independent board set up, we would be much happier."
He underlines that there has been – and still is – constructive dialogue with those behind the SAFEagent scheme, and that ARLA members are free to make their own decisions 'as to whether they want another sticker in their window'.
However, he truly believes that ARLA is the real champion of the private rented sector: "I think that what we are trying to achieve is much wider. I really feel passionately that we are the kitemark," he says, adding that he thinks ARLA actually dealt with the SAFEagent issue perfectly well.
But is ARLA making the most of its opportunities? In Canterbury, where a non-ARLA agent has collapsed owing £400,000 to landlords and tenants who are extremely unlikely ever to see a penny of their money back, shouldn't there be a local publicity campaign up and running?
However, Hyatt, like others, is frustrated at the fact that lettings agents are still unlicensed, and believes it is something that 'has got to happen'.
Professionally, Hyatt would have no problems with it, but then Knight Frank is not exactly known for having low standards. Its brand deliberately oozes integrity.
The estate agency giant, founded in 1896, is the world's largest privately owned estate agent, turning over in excess of £185m a year in the UK alone.
Hyatt joined in 2003 from Foxtons, where he rose to become lettings director. Hyatt says property is probably in his blood, with his father and brother both having been estate agents – his father was a director of Mann & Co, and his brother a partner at Marsh & Parsons.
He did not start off in property. He had a Saturday job at Tie Rack and was waiting to start university when Tie Rack opened in France and needed a French-speaker. As it happens, he had done A-level in French.
Aged 19, he was given fast-track management training as he waited at the airport, and at 21, found himself operations director for Europe, before deciding to do something a little more normal.
He went travelling to South Africa, where he was born. As he was returning, his brother – who used to play squash with Jon Hunt – suggested him for a job at Foxtons, where he had a thorough grounding in lettings, sales and property management.
He was, he says, very apprehensive about joining Knight Frank, but his has clearly been a successful tenure, growing the lettings business.
It currently operates out of 19 offices in London and the Home Counties, with more growth planned (there are currently 59 Knight Frank offices in the UK).
While Knight Frank is the kind of agent that attracts wealthy clients, including rich foreign landlords and tenants, Hyatt says that he will be chiefly concentrating on the core market where rents are from £250 to £1,000 a week.
He believes that the rental market will continue to prosper, predicting rent rises of 4% in the medium to long term.
However, he does think that rental supply – or its lack – is a serious concern. "There will be six million households in private rented accommodation by 2021," he points out – a 50% rise.
He says that the Budget's changes to Stamp Duty for £2m-plus properties has not deterred wealthy foreign investors who still look to London bricks and mortar as a safe haven for their money. "However, last year's riots did have much more of an effect. There was definitely a cautionary pause while investors took stock."
Hyatt exudes enjoyment of his job: "I love it,"' he says. "Lettings is so interesting – unpredictable, and busy. You have to have ten or eleven transactions to achieve the same turnover as one sale. You can't stand still.
"No two days are the same. Lettings is a trading market and it trades from one day to the next."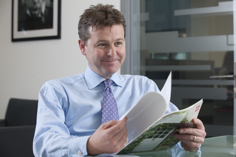 Post Comments
Please login to post comments.

Post Comments without Login

DISCLAIMER:
Feedback:
If you have any questions or suggestions about this article or our news section, please don't hesitate to contact us.
Editorial Contact Details
-
Rosalind Renshaw
rosalind.renshaw@gmail.com
0845 672 6000
Related News Stories
Most Read News Stories